ERVEN MIRAGES: TOWARDS OTHER CONSTRUCTIONS OF VALUE

Sarah de Villiers

︎︎︎
---
Three mirages appear, which occupy and attach to unseen and unsurveyed surfaces of Jeppe Street, Johannesburg. New tools are co-opted into the narration of value, including the mirror, tilted-up views, crumplages and collage. In these gazes, the line and boundary of property is never quite stable, and with it the power which it might ascribe.
In Dutch, the language from which erve is derived, the word is etymologically linked to concepts of land, inheritance, heritage, and grant. This would suggest a linking of ground to time – something which remains, and is passed down through the purveyance of history – granted to the next in line. But what was there before the erf, before the earliest surveyor cut up the land and inscribed within drawn lines on a map land that might be owned, 'out of nothing'? The assignment of land-value derives from a lot more precarious, abstract and even whimsical means than we might acknowledge. Does the value of land attributed to a particular owner actually exist, if the tools that made it are not quite real themselves, and had started, really, from a baseless point? In Johannesburg, the instability of erven is tangible, firstly in the city's misaligning and scale-distorted grid as registered on Lilian Ngoyi Street (previously known as Bree Street), clear registers of the tools of the surveyor failing, and secondly in the transgressions outside and inside the lines and borders of ownership as the occupants of the city negotiate new meanings of value. This work aims to show that these 'irregular acts' are just as irregular as the conception of the erf itself. There are new and other flows of capital – ones which introduce new adaptions: prosthetic limbs of access and entry, and also subtractions and reabsorptions onto unexpected surfaces of the city.
The drawings attempt to provide a way of thinking through new frames of value and economic value production beyond the sterility of erf lines, square meterage, and desirable coordinate positions. The views describe environments, rather than subjects or juristic objects, as the predecessor of productive surface. The first frame (Erven Mirage I) considers value that is produced towards systems of wayfinding and access, especially to the many cross-border traders, including those of Ethiopian origin, around the Medical Arts Building and Joburg Mall area. Amharic signs, which occur at different strata across the vertical surfaces of buildings – on shopfronts, stairwells and hanging tarps draped over facades higher above, and the cries of hawkers in various languages and dialects, and multiple appearances of the word 'welcome' signal familiar entry points, and legible pathways for navigation for the shopper or immigrant making their way through this part of the city.
i
The second frame recounts vertical economic claims, in the form of incredibly efficient and ingenious maximisation of vertical surfaces in this area for retail purposes. The economic productivity of vertical surfaces far displaces that as seen in a top-down form, on a map or plan. 1m2 of floor shop space is actually 6-8m2 of vertical surfaces off which to sell tens of thousands of Rands worth of shoes – the profitability of this far outweighing any formalised 'gross lettable area' retail system, which is based off of horizontal planes as visible on plans or survey maps. The area under the stairs, the basement parking, and the toilet stalls in the building are claimed as outlet or factory. The roller shutter, door hinge and unfolding spokes of the umbrella become technologies that manage value production. These create ephemeral claims on surfaces which fall outside of or unexpectedly maximise the realm of the commercial property's erven, and which may disappear or be tucked away within seconds in the day. Prosthetic nodes of new forms of retail attach onto a modernist institutional building to become new machines of livelihood generation.
The third frame contemplates devices or surfaces that leverage value toward new forms of ownership and belonging. Foreign alphabets and cities from far off-lands find their way into shop-signs, swathes of coloured fabric claim banks of openings and shops on ground or first floor, smells of berbere and onions cooking, plumes of light (or darkness) become new inscribers of territory. They produce anchorings and legitimacies – we know who is in charge, and it is okay (or not okay) to be here. These foster new worlds for coalescing community, for survival and for care – new 'other' worlds in existing worlds.
The spaces and systems observed have inspired the exploration of space-folding techniques in the thinking and making of this work. Here, a map has been crumpled and redrawn, with new in-between values to exist behind the folds. The mirror is borrowed as a tool that folds and unfolds – that both deceives but also shows. Architectural renders are produced which inflect other visions of value as new anchor points into view using reflective vertical spaces – new claims on the surfaces not seen on the land-surveyors map.
ii
It is a drawing which opens and closes, appears and disappears – is at once there and isn't. It is a project, perhaps, also in favour of the restless, the hidden, the fleeting, and the hustling – in between the so-called legitimate frames of the city. This project seeks to find and represent (albeit precariously) other elusive 'lands' which hold value in dynamic, messy ways which challenge colonial rationalities of valuation.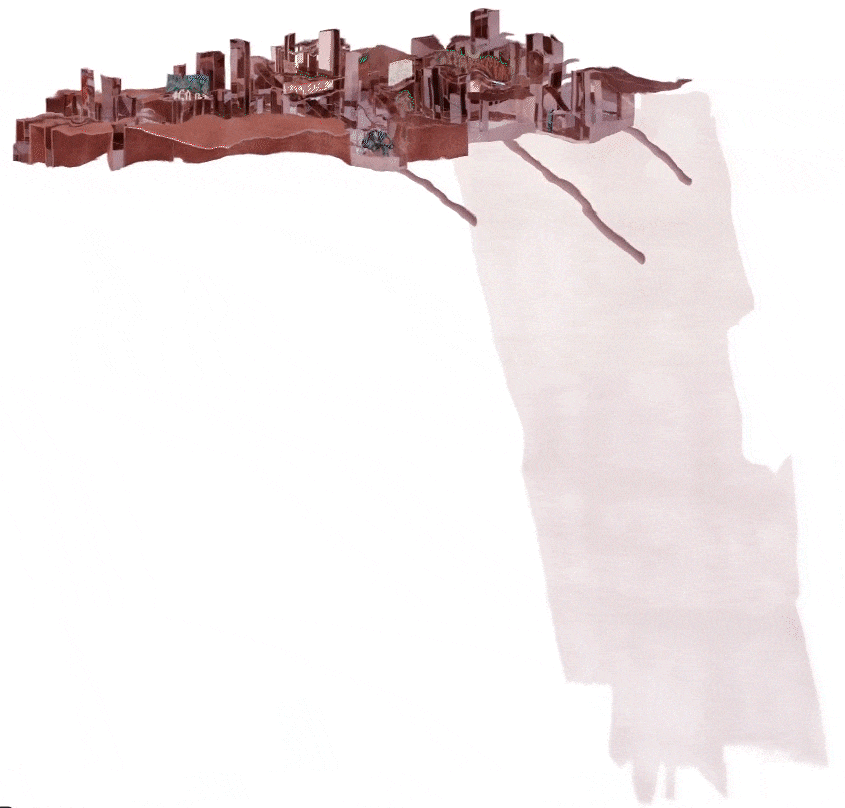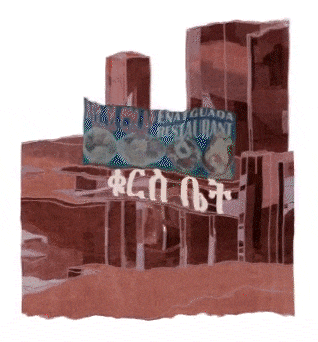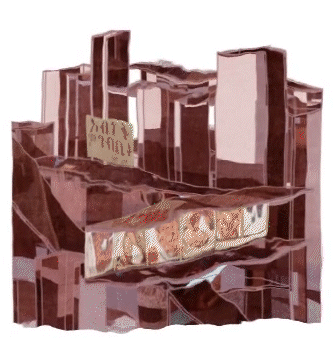 ---
Themes:
Counter-Scopic Regimes
,
Spatial Claims
Methods:
Counter-Cartography
,
Documenting the Mundane
[i] Another visual reflection on our bodies in public spaces can be found in the visual essay:
SPATIAL STORYTELLING: CONDUIT AND VESSEL by Khensani de Klerk
[ii] For more on On claims about unseen surfaces, see:
ARCHITECTURE AS AN INTERSECTION: MOBILITY IN DOWNTOWN KAMPALA by Thomas Aquilina
Sarah de Villiers
is an architect and designer, based in Johannesburg. Her work engages with the spatially detectable abstractions of power and economy, and modes for transaction at the edges of these. She co-leads GSA Unit 18 at the Graduate School of Architecture, University of Johannesburg and is the director at SpaceKIOSK.
︎
@sarahdevilliers_